Establishing a Successful Prospective Medicare Advantage Risk Documentation Program
Medicare Advantage Organizations (MAOs) are constantly evaluating and deploying new strategies to improve risk documentation accuracy, though very few are able to achieve their desired risk adjustment factor (RAF) improvement targets. When this happens, MAOs will expand their retrospective chart review campaigns in an attempt to make up the difference. This strategy is costly, abrasive on the provider, and typically comes with diminishing returns.
On average, Pareto Intelligence and Gorman Health Group (GHG) see MAOs achieving an 80-84% recapture rate of chronic conditions, but market-leading plans are achieving 84-90%, while some even exceed 90%. For a 50,000 member MAO, improving year-over-year recapture of chronic conditions, even by only 3% (going from 82% to 85%), results in ~$10 million in annual revenue.
Challenges with a Retrospective-Centric Revenue Management Approach
Performing retrospective or concurrent chart reviews will continue to be a valuable strategy for MAOs to improve RAF accuracy, but many challenges come with an overly reliant retrospective strategy:
Suppressed RAF scores. Retrospective programs address the billing and coding issues that exist on the provider side, but do not solve for member engagement and provider evaluation challenges. Without a visit and an evaluation of all patient conditions, RAF scores will remain suppressed.
Lack of clinical insight. Inaccuracies in risk documentation have cascading impacts beyond revenue to other areas of the plan. Improving risk documentation accuracy benefits population health and care management programs by providing more complete clinical insight into members, their interactions with their provider, and a greater ability to evaluate and measure outcomes accurately.
Higher administrative spend. Even with greater electronic access to medical records, MAOs spend millions to acquire, review, and re-review medical records to improve RAF score accuracy. It is easy to solely focus on the overall value and return on investment generated, but when diving deeper into the outcomes, MAOs will uncover that there is a sizeable proportion of charts chased and reviewed that generate no value (neither confirming captured conditions, deleting unsubstantiated conditions reported, or adding new conditions). By applying a more sophisticated approach, MAOs can reduce their spend and effort by reducing their chart volumes and still achieve the same RAF contribution.
Delayed revenue. Delaying HCC capture presents a cash flow challenge for MAOs and is difficult to predict and to set accruals. Improving point of care HCC capture, in turn, speeds up revenue to the MAO and lessens the mid-year and final RAF adjustment impact. As illustrated below, MAOs with an overly reliant retrospective program experience this "hockey stick" effect to their RAF score and revenue, while those that have invested in prospective risk capture have a much flatter trend between the midyear and final.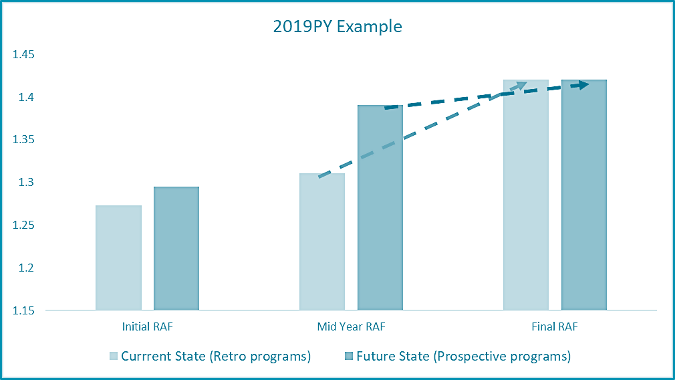 Foundation of a Successful Prospective Risk Documentation Program
An effective prospective risk documentation program is integrated with the MAOs clinical and quality strategy to maximize the value and outcomes of every member-provider visit. The following tenets apply to clinical and quality improvement, but for the sake of this paper, we address them through the lens of risk documentation capture only.
Communicate. Many MAOs believe this is solely a technology issue, but how member-level insights are communicated to the provider is only one aspect of the equation. When selecting a solution(s) to evolve plan-to-provider communications, focus on solutions that are adaptive and meet providers where they are accustomed to getting patient-level information. With providers having varying levels of sophistication and EHR configurations, there is no one-size-fits-all solution. Therefore, MAOs should look for solutions that can intelligently route information to providers with the flexibility to deliver multiple ways (e.g., FHIR, API, Secure Direct, or portals).
Analyze. Prospective risk capture is a journey requiring MAOs to continually evaluate performance to inform their strategic and operational path forward. An MAO should have an understanding of how each provider in their network is performing to then prioritize their improvement activities. This requires a detailed level of analysis that goes beyond simply the calculation of chronic condition recapture rates for attributed members. An MAO should have insight into the following questions for each network health system, medical group, and provider.

Which conditions are coded by the attributed versus other providers?
Which conditions and patients are going undocumented?
Is it an engagement issue or a documentation issue?
For conditions they've coded, did it come through the claim or a supplemental chart review? If a claim, was it an in-person or a tele-visit?
Any insights from RADV, internal audits and/or chart reviews that provide insight into their documentation accuracy?
Any upcoding trends or compliance risk identified?
Educate. A major key to achieving long-term risk documentation improvement is continual provider coaching and education. The best programs have analytics drive the subject matter, leading to patient panel-specific and performance-based educational programs. Secondly, the materials and content must be easily digestible and ongoing to forge the right long-term behavioral changes needed to improve the completeness, accuracy, and compliance of diagnosis risk capture at the point of care.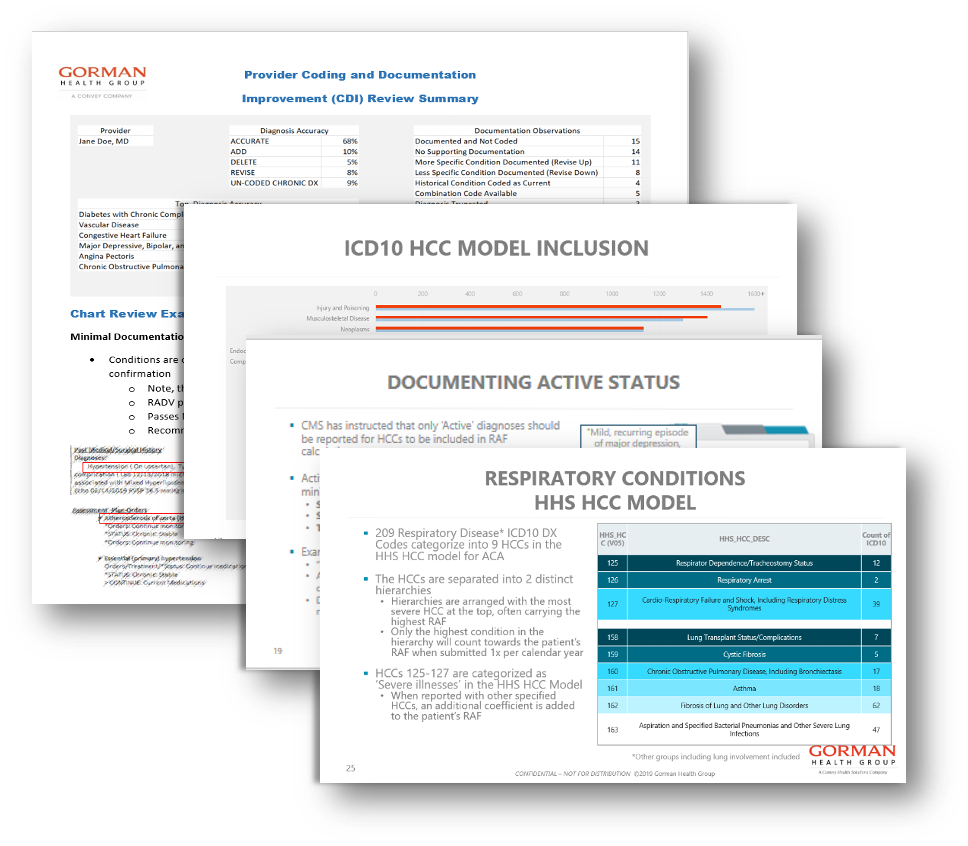 Key Takeaways
Improve revenue timing and accuracy. Retrospective campaigns have limited yield and delay revenue recognition. Therefore, an evolved prospective strategy is essential to improving overall revenue accuracy.
Requires a multi-faceted approach. Many MAOs view prospective campaign strategies as a technology issue, but a multi-faceted approach is required including aligning incentives, streamlining insight delivery, establishing data-driven prioritization, and executing ongoing coaching and provider engagement.
Analytics should drive activities. Gaining a deeper understanding of current provider performance is imperative and requires MAOs to leverage all the data assets needed to understand who is capturing conditions, where, and through what channel.
Continued education is essential. Provider documentation coaching and education is an ongoing effort, and the more patient panel-specific it can be results in the best outcomes.
Pareto Intelligence and GHG Advisors have extensive experience in ensuring complete and accurate risk documentation, and are poised to help incorporate a prospective risk documentation program into your broader clinical and quality strategy. Contact us today to start the conversation.