Pareto Intelligence Recognized in Built In Chicago's Best Places to Work List for 2021
Pareto Intelligence (Pareto), a Convey Health Solutions company, has been recognized and ranked by Built In Chicago as one of the 2021 Best Places to Work, Best Small Companies to Work For, and Companies with the Best Benefits.
"We are honored to be recognized in Built In Chicago's Best Places to Work list for the third year in a row," said Jason Montrie, President of Pareto. "While 2020 certainly presented its own unique challenges, Pareto continued to increase our headcount and revenue, and discovered creative ways to bring our employees together in a remote environment. We also moved into a brand-new office space in River North and look forward to the day that all of our employees can gather in person again."
Pareto was listed in the Top 20 "Best Places to Work", the Top 2 "Best Small Companies to Work For", and Top 10 "Companies with the Best Benefits" in Chicago. Built In's Best Places to Work list rates companies algorithmically based on compensation data and employer benefits. For the "Best Small Companies" list, ratings are applied to companies with less than 100 employees. Rank is determined by combining a company's score in each of these categories.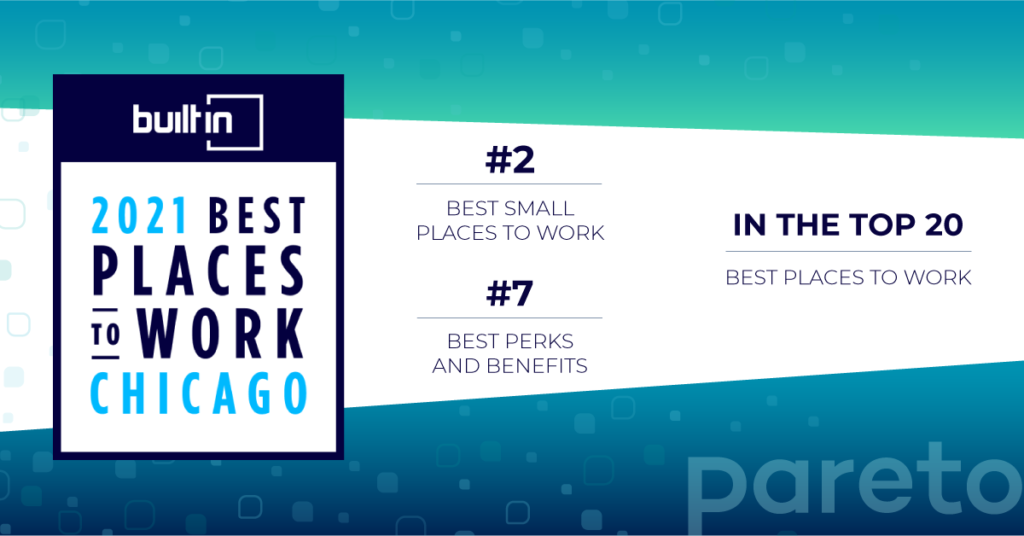 Pareto is currently hiring for numerous positions in IT, advisory consulting, engineering and development, product, operations, and data analytics. To learn more about our open positions and apply, visit our profile on Built In Chicago.
About Pareto Intelligence:
Pareto Intelligence is a leading healthcare technology company modernizing the way health plans and providers succeed in value-based care. We deliver analytics, technology and advisory solutions to help our clients achieve complete and accurate revenue, communicate critical patient information seamlessly, activate clinical and claims data, and make more informed strategic decisions. Our solutions are supported by artificial intelligence-enabled predictive models and proprietary algorithms, powered by advanced data science, that help our clients capture 5:1 to over 20:1 return on investment. Through this, Pareto demystifies complex healthcare data, and delivers actionable insights to improve outcomes. To learn more about Pareto Intelligence, visit www.paretointel.com.
About Convey Health Solutions:
Convey Health Solutions is a specialized healthcare technology and services company that is committed to providing clients with healthcare-specific, compliant member support solutions utilizing technology, engagement, and analytics. The Company's administrative solutions for government-sponsored health plans help to optimize member interactions, ensure compliance, and support end-to-end Medicare processes. By combining its best-in-class, built-for-purpose technology platforms with dedicated and flexible business process solutions, Convey Health Solutions creates better business results and better healthcare consumer experiences on behalf of business customers and partners. The Company's clients include some of the nation's leading health insurance plans and pharmacy benefit management firms. Convey's healthcare-focused teams help millions of Americans navigate the complex Medicare Advantage and Part D landscape.
---