Are You Ready for Increased Use of EDS Submissions in Medicare Advantage Risk Score Calculation?
On January 6th, 2020, the Centers for Medicare and Medicaid Services (CMS) released the Advance Notice of Methodological Changes for Calendar Year (CY) 2021 for Medicare Advantage (MA) Capitation Rates and Part C and Part D Payment Policies – Part I, CMS-HCC Risk Adjustment Model.
After a preliminary review of the announcement, one significant change stood out: Starting in CY2021, CMS will calculate risk scores for payment to MA organizations (MAOs) using 75% Encounter Data System (EDS) submissions and 25% Risk Adjustment Processing System (RAPS) submissions. This represents an acceleration from a 50%/50% blend in 2020.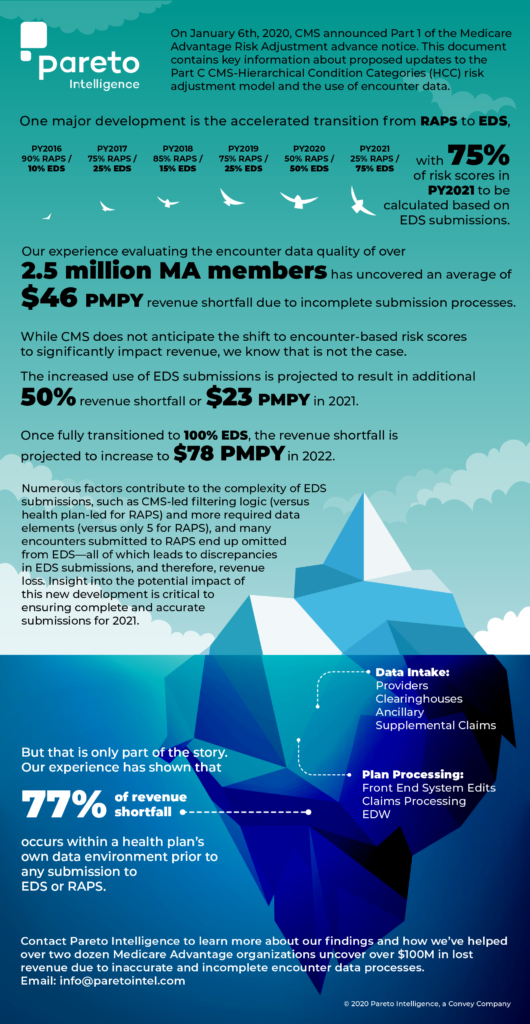 For additional information, Jeff De Los Reyes, Senior VP of Healthcare Analytics & Risk Adjustment Solutions, published a detailed article on Part 1 of the Advance Notice to summarize the key takeaways for MAOs. Read more here.
---
Pareto Intelligence has worked with numerous MAOs to evaluate encounter data processes and ensure accurate revenue capture. Given the increased emphasis on the EDS submission model and the growing potential for revenue shortfall, MAOs should begin assessing encounter data now to resolve issues in advance of submission deadlines.
Contact us to discuss the impact of this change and learn more about our capabilities.