Pareto Earns High Marks in KLAS Risk Adjustment Performance Report
The 2021 KLAS Risk Adjustment Performance Report recognized Pareto Intelligence as a Top Performer.
---
Key Findings from KLAS:
Pareto's analytics and proactive partnership lead to high satisfaction; overall MedInsight experience improving
EXL's

strong analytics offering expanding to broader capabilities;

Advantasure's

technology lacking

Apixio's AI capabilities and client success program drive accuracy, efficiency; Health Fidelity's difficult implementations causing struggles
Pulse8 customers considering leaving due to deteriorating relationships post-acquisition
---
KLAS Releases 2021 Vendor Snapshots For Risk Adjustment Services
More than ever, payers, providers, and provider-sponsored health plans are looking to add strategic, tech-oriented solutions to their overall business strategies. When it comes to risk adjustment, organizations must navigate a vendor-rich market as the demand for solutions grows.
Recently, KLAS Research released their long-awaited Risk Adjustment Performance Report for 2021, which offers an in-depth analysis of various vendors in the risk adjustment solutions arena.
Filled with detailed customer feedback and key metrics, KLAS's report offers industry-leading insight into 17 vendors who are ranked and reviewed based on the feedback provided by 163 respondents.
Top performers seem to excel in the areas of analytics, ability to drive outcomes, quality of implementation, and proactive service. Additional information is provided on the vendors, including market share, percentage of respondents who plan to expand solution usage, current uses, and more.
---
Pareto Intelligence Is Seen As a Proactive Partner1
Pareto Intelligence is now fully rated by KLAS as a top performer for risk adjustment solutions, with a rating of 90.4 for overall performance as one of the top three vendors in the overall performance segment.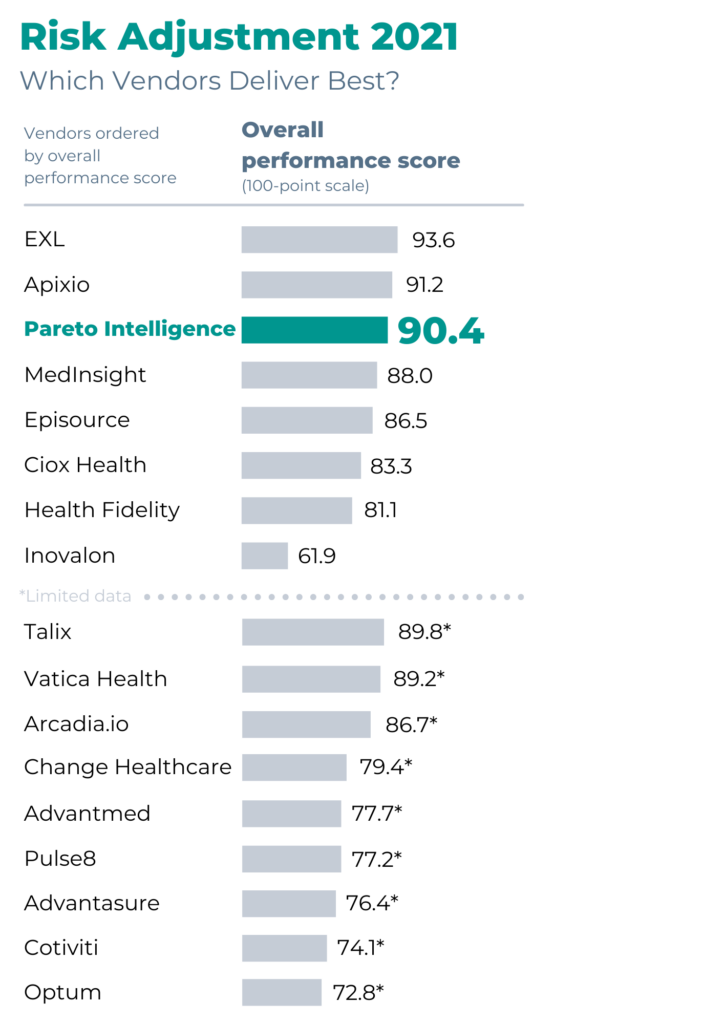 Top Performer
The overall performance score of each vendor across the risk adjustment pillars show Pareto Intelligence as a top performer.3
Risk Adjustment Pillars
Analytics
Chart reviews
Health assessments
RADV compliance
RADV support
HHS IVA
Risk verification
RAPS/EDPS submission
Coder services
Artificial intelligence
EMR integration
"Customers report achieving a positive ROI from Pareto's software and services, and many customers would recommend the vendor to a colleague. Customers say that the ability to make providers aware of care gaps has been very helpful." 2

KLAS Research, Oct. 2021
---
Pareto Intelligence Customer Experience Pillars
Additionally, KLAS offers grading to each vendor across six customer experience pillars: culture, loyalty, operations, product, relationship, and value. Pareto Intelligence received no less than a "B+" rating based on customer feedback.

---
Choosing Pareto
Pareto's web-based solutions provide health plans easy-to-use dashboards and analytics, giving them critical insights into their data to identify areas of financial improvement and opportunity across all markets.
Our powerful analytics are matched by expert customer advisory. Our team of industry veterans are market-leading professionals who build valuable relationships with organizations to reshape and modernize their business strategies.
"Pareto Intelligence is amazing with support. They are a really great partner to work with." 4

Manager, Apr. 2021
---
If your organization is looking to change the way it uses data, reach out to learn more about Pareto's healthcare solutions.
---
About KLAS
KLAS is a data-driven company on a mission to improve the world's healthcare by enabling provider and payer voices to be heard and counted. Working with thousands of healthcare professionals, KLAS collects insights on software, services and medical equipment to deliver reports, trending data and statistical overviews. KLAS data is accurate, honest and impartial. The research directly reflects the voice of healthcare professionals and acts as a catalyst for improving vendor performance.
To learn more about KLAS and the insights we provide, visit KLASresearch.com
---
1Source: 2021 KLAS Risk Adjustment Performance Report, p. 38
2Source: 2021 KLAS Risk Adjustment Performance Report, p. 38
3Source: 2021 KLAS Risk Adjustment Performance Report, Vendor Snapshot pg. 3
4Source: KLAS Vendor Dashboard