CMS Advanced Notice: Proposed PY2023 Risk Adjustment Updates
On February 2, 2022, CMS released the "2023 Medicare Advantage and Part D Advanced Notice". In accordance with section 1853(b)(2) of the Social Security Act, CMS is obligated to provide such an announcement that outlines the proposed changes to the Medicare Advantage Risk Adjustment methodology and allows for public comment before final changes are put into practice.
Below is a summary of the "Year-to-Year Percentage Change in Payment" as highlighted in the CMS 2023 Medicare Advantage and Part D Advance Notice Fact Sheet below: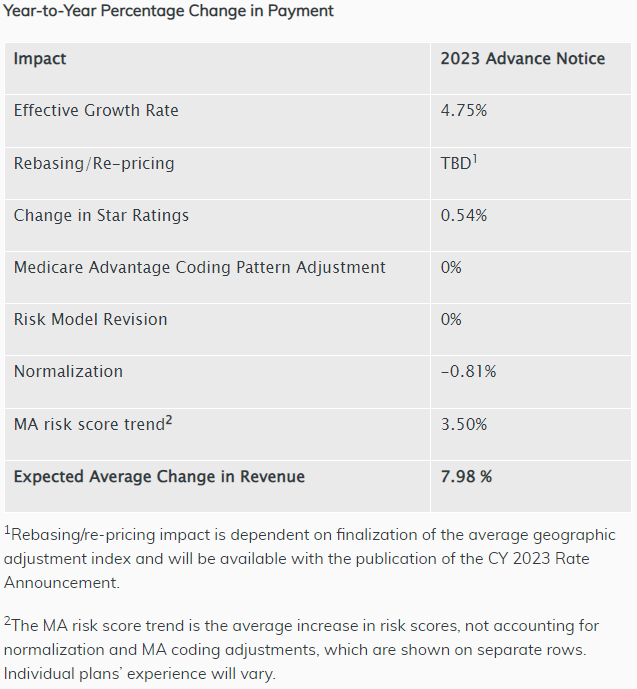 When these proposed figures are compared against the PY 2022 Advance Notice, the significant changes include:
0.25% increase in Effective Growth Rate
Star Ratings = 0.54% positive impact on payment (compared to -0.34% in PY 2022)
Normalization reduced by 50% to -0.81% (down from -1.64% in PY2022)
Inclusion of MA Risk Score Trend (3.5%) which was previously not reported
Average Change in Revenue: 7.98% (compared to 2.82% in PY2022, excluding the MA Risk Score Trend)
Other noteworthy points mentioned in the announcement:
Notice Updates
Impact
7.98% Expected Average Change in Revenue
Plans will now have more flexibility to utilize the expected increase in revenue to offer more robust supplemental benefits, which will increase member satisfaction, fuel enrollment growth, and improve overall member health outcomes.
CMS is deciding on whether enhancements can be made to the CMS-HCC risk adjustment model that address the impact of SDOH on health status. This would incorporate additional factors to predict the relative costs of MA enrollees.
Given the current (and historical) models focused solely on health status defined by diagnostic conditions, CMS also acknowledges the impact of SDoH as a contributing factor to predicting the health status and expected costs for MA beneficiaries. This provides an opportunity to use additional non-diagnosis data attributes to better predict members' health status.
CMS is acknowledging the impact of COVID-19 on risk scores. They are proposing to not include the 2021 risk scores (based on 2020DOS) for normalization calculation. This is due to concerns that the lower-than-expected 2021 risk scores will result in an underestimation of what the 2023 risk score will be.
CMS is acknowledging the impact of COVID-19 on risk scores during the 2020 calendar year. However, practices that were put in place in response to COVID such as telehealth are likely to stay and become a part of the MA members' routine care.

Telehealth encounters should continue and will be eligible for risk adjustment. However, plans should evaluate whether members receiving a telehealth can still have their persisting and new conditions assessed and documented. Plans should consider telehealth as a supplement versus a replacement for MA member engagement.
ESRD model is moving to v24 clinical standards/Hierarchal Condition Categories
CMS will be updating the clinical standards associated with the ESRD HCC Model by adopting the v24 model currently being utilized in scoring the community HCC population. Transitioning to the v24 clinical standards offers a variety of updates to the ESRD model, including:

- Dedicated substance abuse, psychiatric disorder, and pressure ulcer HCCs
- 2 Additional disease-disease interactions (substance use disorder, psychiatric, congestive heart failure, specified heart arrhythmias)
- Population segment updates
Key Takeaways
CMS is projecting an increase to the Medicare Advantage growth rate during PY 2023. While the projected growth rate may suggest more first-time entrants into the market, the combination of a reduction in coding normalization, a positive Stars impact and risk score trends will yield positive revenue impact.
The projected positive revenue impact creates opportunities for MAOs to offer more robust benefit plans, including hearty supplemental benefits options to create a competitive advantage.
The consideration of SDOH to be incorporated within future risk scoring models is promising. While CMS is seeking input from the industry – the application of this feedback will be years in the making. Yet, CMS recognizing the importance of SDOH in monitoring and supporting a member's health status is a great step forward for the industry.
Additional Sources:
Advance Notice of Methodological Changes for Calendar Year (CY) 2023 for Medicare Advantage (MA) Capitation Rates and Part C and Part D Payment Policies
---
Our team of advisors consist of seasoned veterans who have served at every decision-making level of leading health plans. We're dedicated to helping organizations grow, perform, and transform through professional consultancy and technology-based solutions.